Following their loss at the Ichinotani cliff fortress, Heike retreated to Yashima off Shikoku's coast, where they established a fleet and made arrangements to construct an improvised palace for Emperor Antoku.
Yoritomo Minamoto assigned his half-brother Yoshitsune to lead the naval forces. During an audacious nighttime attack at Yashima, Yoshitsune succeeded in weakening the Taira fleet, although it did not result in their complete removal from the base.
The Prelude to Yashima: Setting the Naval Stage
The Battle of Yashima was a crucial naval engagement in Japan's Genpei War, but the decisive battle was the Battle of Dan-no-ura. Utagawa Yoshikazu's painting of this event illustrates the Taira clan and their superior navy – used to block off Yoritomo's forces' advance.
At dawn, scouts from the Minamoto fleet surveyed the sea and observed a strong Taira naval force anchored near a nearby island.
Due to limited information about what happened at Yashima during its naval battle, most details must be inferred from hearsay and war chronicles such as Heike Monogatari or Gempei Monogatari. We will follow its course as depicted by these texts.
Fortresses and Flight: The Taira's Hasty Departure
Following several defeats, the Taira clan decided to flee Yashima by sea. Their navy was dispersed across the Seto Inland Sea as the island provided numerous coves where ships could be hidden; when Yoshitsune set sail on March 4, his fleet consisted of 840 (according to Azuma Kagami).
Yoshitsune was keen on attacking the Taira naval base at Hikoshima as his army marched towards Yashima. To fool the Taira into believing an onslaught from seaward was imminent, he instructed his troops to burn the homes of commoners, which caused panic among Taira members who thought an army of attackers was marching toward Yashima from out at sea.
As the two navies clashed, Taira warriors braced themselves for a fight to the death. As the two navies clashed, the Taira warriors braced themselves for a fight to the death. Although Taira patriarch Kiyomori had passed away years before, the Taira clan, led by other family members, faced the Minamoto forces in a desperate struggle.
Naval Warfare in Medieval Japan
While Yoshitsune's naval tactics were noteworthy in their own right, it would take centuries and influences from Chinese, Korean, and later Portuguese maritime strategies to develop Japan's first comprehensive naval doctrine that would influence naval strategy for years to come.
Samurai were not equipped with their navy, yet still had ways of fighting battles at sea. Samurai did not have a formal navy but engaged in naval combat using a variety of ships, some of which were designed for speed and agility. However, these ships were susceptible to adverse weather conditions, which could cause them to capsize. Furthermore, these ships could not accommodate cannons due to weight and recoil restrictions limiting how far these weapons could shoot.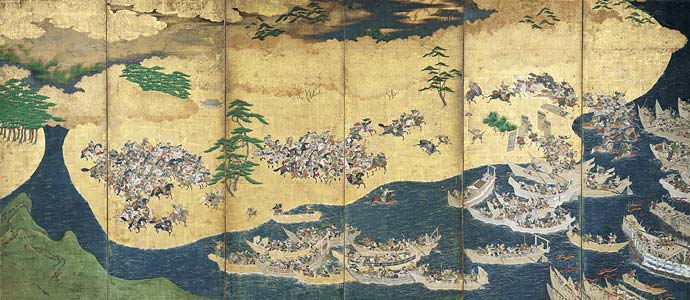 The Taira family had endured several defeats and losses since the Battle of Ichi-no-Tani in 1184, forcing them to seek refuge on Yashima Island of Sanuki Province, where they relocated Emperor Antoku to Rokumanji Temple as their makeshift capital. Yashima offered protection from land attack, while its coves and ports provided perfect hiding places for naval forces.
Therefore providing them with an ideal opportunity to regroup their forces for an eventual final assault from sea by Minamoto clan; Taking this calculated gamble was necessary to move ahead in their plan of attack from this risky gamble a necessary risk they deemed necessary to succeed against Minamoto clan who they believed would come at them from that direction – something risk they believed would surely come.
The Minamoto Pursuit: Turning the Tide of War
After their defeat at Ichinotani, the Taira fled their fortresses on Honshu and Shikoku for shelter. The Taira clan was under siege by forces led by Minamoto no Yoshitsune and Yoritomo.
To address the situation, Minamoto no Noriyori, brother of Yoritomo, proposed that the Taira advance be blocked through a surprise attack from behind by launching a strike using many ships across the Seto Inland Sea. Unfortunately, his army was severely depleted after losing at Ichinotani, thus scrapping this idea and continuing the war instead.
Under the orders of Yoritomo, Minamoto no Yoshitsune pursued the Taira to Yashima. Engaging the Taira in battle on the island, his forces successfully disrupted the Taira's defenses. During the battle, Minamoto forces and Taira warriors engaged in fierce hand-to-hand combat, demonstrating their martial prowess.
Both Yoshitsune and Yoritomo were master tacticians in their own right, albeit with different approaches and philosophies. Yoritomo, the older, more seasoned brother, was methodical and calculating, often taking a long-term view of the war. His strategies involved attrition, siege tactics, and intricate planning to encircle and contain the enemy.
Yoshitsune, on the other hand, was young and audacious, often opting for daring gambits. His tactics often involved high-risk, high-reward plays, such as the famous "Uphill Battle" at Ichi-no-Tani. The two brothers were in a tacit competition, each keenly aware of the other's victories and the legacy they were creating. For Yoritomo, each of Yoshitsune's exploits was both a boon for the Minamoto cause and a potential threat to his own leadership, while Yoshitsune was aware that his battlefield successes could make him a political liability to his elder brother.
The Psychological Impact of Yashima
In the final years of the Heian period in Japan, during the Genpei War (1180-1185 CE), the Minamoto clan waged battle across the country, ultimately defeating the Taira clan at the Battle of Dannoura (present-day Yamaguchi). Yashima Bay served as an important turning point during this naval engagement that took place here.
Yoshitsune used psychological warfare to convince his enemy, Heike, of his powerful fleet and invincibility, placing a fan on one of their ships and daring the Minamoto to knock it down. Nasu no Yoichi obliged with one of Japan's most famous arrow feats in Japanese history and a brilliant battle move that earned him many accolades as a master samurai archer. He shot a hole through their fan.
Setting the Scene for Dan-no-ura
The Battle of Dan-no-ura on March 24, 1185, was the decisive final confrontation in the Genpei War between the Taira and Minamoto clans. Led by Yoshitsune of the Minamoto clan, this battle ended the Taira clan's rise and marked their downfall.
Minamoto had already defeated Taira in battle and made their way toward Yashima. Local warlords, swayed by Minamoto victories and their growing momentum, chose to support the Minamoto clan against the Taira in anticipation of their defeat.
Fog was one of Yoshitsune's main challenges in this war, making it hard for him to see his enemy's boats. To counteract this problem, to address this, he relied on his naval strategy and tactical insight, rather than setting fires in the homes of commoners.
Yoshitsune employed other strategies to confuse Taira. According to "Heike monogatari", at the time of battle he removed his saddle from his horse and hung it from a pine tree known as Kurakake no Matsu (Saddle-hanging Pine Tree), creating the impression he was riding backwards – further disorienting Taira soldiers.
As the sun began to rise, dispelling the fog that had settled on the waters, Yoshitsune stood at the bow of his ship, his hand resting lightly on the hilt of his katana. His eyes met those of his samurai warriors, each clad in intricate armor and gripping weapons that had been passed down through generations. "Today, we write the final chapter of a tale that will be told for centuries," Yoshitsune announced. "Let your arrows fly true. Let your swords cut deep. But remember, it is not just skill but spirit that wins wars. Show them the spirit of the Minamoto, and let the heavens bear witness!"
The samurai nodded, their faces stern, but their eyes filled with a fire that could only be kindled by the words of a leader they respected and admired. As they prepared for battle, adjusting their armor and drawing their weapons, the atmosphere was heavy with the weight of what was to come yet tinged with an air of confidence. Today's battle would echo in the halls of history, a fitting climax to years of strife. And as the ships drew closer, almost close enough for shouts to be heard across the water, each warrior took his place, silently reciting prayers or family creeds, as was the custom.
As the first arrows were nocked and the war drums began their ominous beat, it was clear that this would be a battle for the ages, a decisive moment that would determine the fate of clans and the future of Japan itself.
Lessons from the Battle of Yashima
The Minamoto clan employed effective naval strategies at Yashima, which contributed to their victory over the Taira clan, who may have underestimated their naval capabilities. This tactical surprise played an essential role in their victory and later success at Dan-no-ura.
The Taira were beleaguered by the natural elements like cold winds and turbulent seas, adding to the challenges they already faced against the Minamoto. Additionally, they faced an immense force of Kamakura Government troops advancing from west and north.
While it's true that the Minamoto were bolstered by advantages in both planning and geography, perhaps one of the most overlooked aspects of these historic battles is the psychological impact. It was said that Minamoto no Yoshitsune was a master at manipulating the morale of both his own troops and that of his enemies. Using various strategies, including deceptive tactics and psychological warfare, he instilled a sense of uncertainty and fear in the Taira, contributing to their eventual downfall. These elements of psychological warfare are now considered to be ahead of their time and continue to be studied in military academies today.